Tomáš Houška
Tomáš is a musician, scriptwriter and a film director. He completed his doctoral studies in psychology and pedagogy and studied guitar play and medieval singing. He spent some time pursuing a professional music career in several bands. He attended some master classes focused on the interpretation of medieval singing, mainly liturgical singing. He is a cofounder of Mensa secondary school where he also worked as director and teacher of integrated history-geography-social science subject. Then he became a director and history teacher at Lauder's schools in Prague. He worked as a school psychologist, taught pedagogy, psychology and the diplomatic protocol and also worked as a ministry official, educational supervisor and he was an expedition leader at Cathar castles in the foothills of Pyrenees…
He's written something around twenty books among which is for example The King's Raven– historical novel situated in the dark ages of Goth wars. Then also a historical thriller Golden Cross or Graffiti rules. Post-apocalyptic mysterious Liber vitae or historical drama – Forget-Me-Not. He's the author of several screenplays, example "Gympl" (It has it's origins in Graffiti rules) and he himself has shot some movies and some others have written and would like to get to their realization.
In addition, he devotes himself to devising and producing props for larps and film, working on weapons design, making jewelry. And it runs the larp-sword business.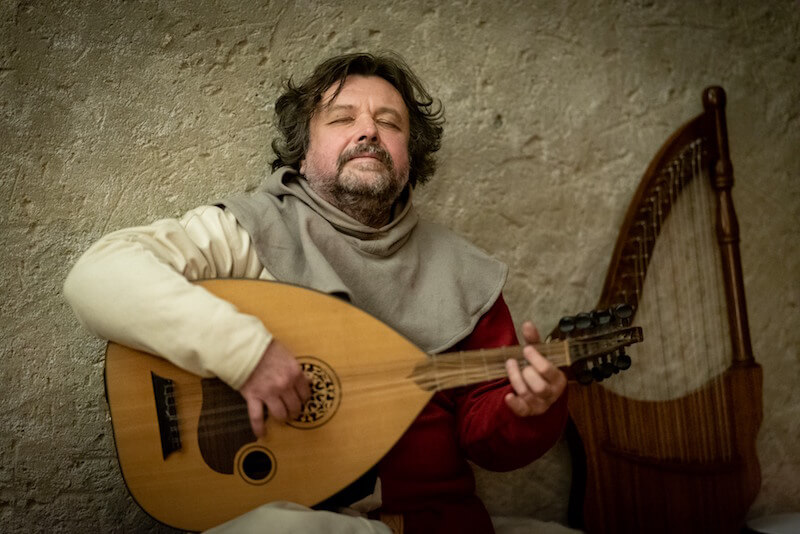 Gabriela Benešová
Gabriela graduated Cello at the Prague Conservatory, Interpretative practice of baroque music and musicology at Masaryk University, and gradual several master classes in baroque cello and viola da gamba. She spent several years in an international professional career with the Rainbow Quartet, several orchestras and solo concerts. Then she was teaching music and arts at several schools for a while. Eventually, she got into the field of business where she works until theese days.
She's written several stories and then a book Vizitka ("Business card").  She likes mysticism, personal development, music and stories. Together with Tomáš Houška, they organize courses on instructed interpretation of medieval music and especially singing.
At the larp-sword store you can see her footprints in the area of costumes, jewelry and accessories for larp and film.