Knight medieval foam sword for larp and battle
Total length
ShA 25 – 90, 80 cm, ShA 35 103 cm
Blade length
up to 84 cm
Width of the crossuard
20 cm
Weight
440 g
Center of gravity
Core
laminate, Kevlar cavity around the tip
Material
flexible polyurethane foam,
A25 blade has a polyamide foam and a more durable surface layer
Certifikace
CE, REACH, EN71 1-3test
Use
Cosplay, Film, Soft larp, Battle,
Genreí
Medieval
Hardness of blade softening
Shore A 25, A 35
Softened foam Knight medieval sword for larp
Typical and most popular design of medieval sword. Equestrian long single-handed sword, ideally suited to the period 13th-14th century, with a tolerance of 13th-15th century.
Fits well in the hand. A favourite at our games. It's a durable, versatile sword with a nice design.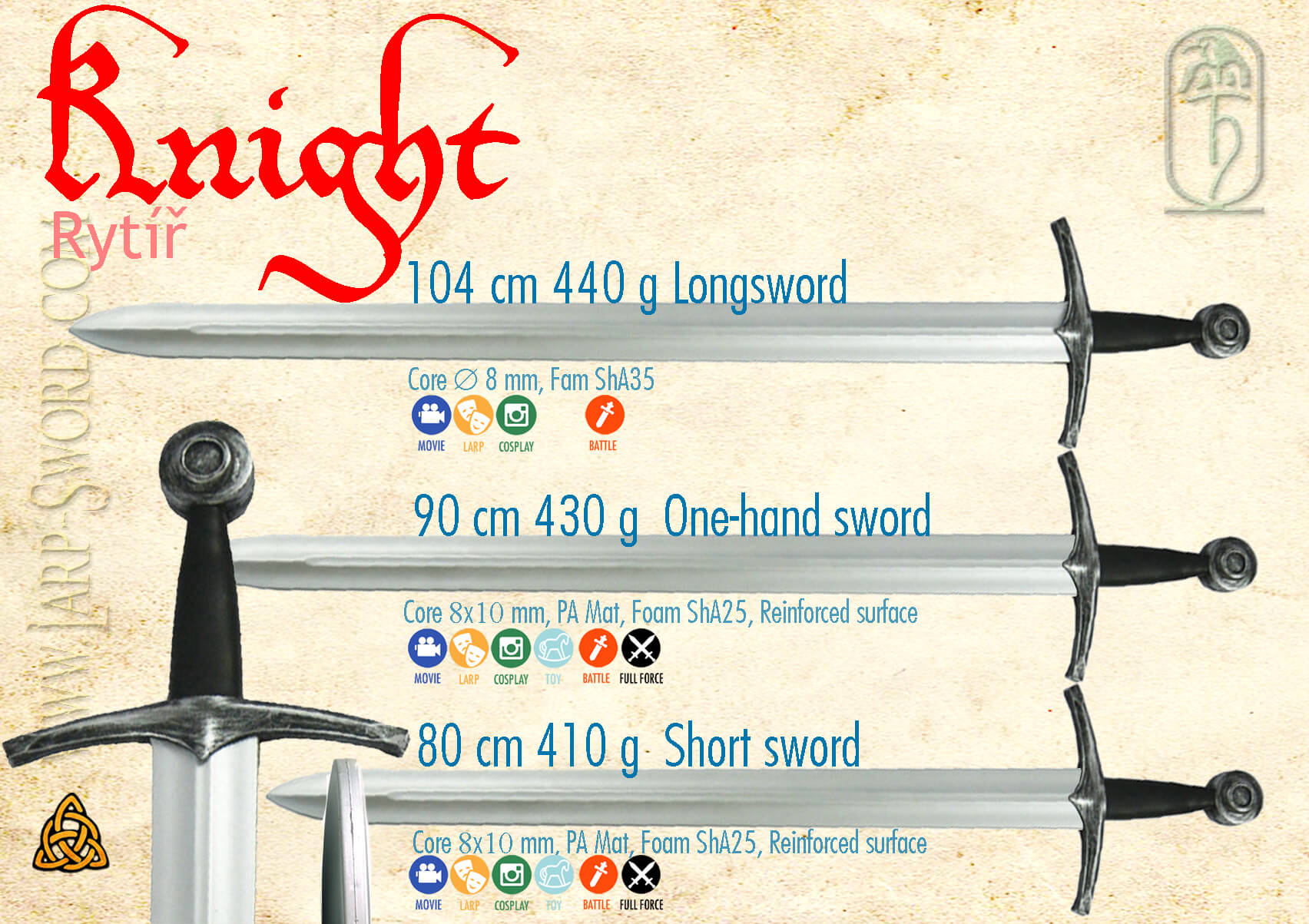 Which is the right option for you
The 103 cm has a lightweight 8 mm laminate core, the foam has a Shore A 35 hardness. If you're doing cosplay or it's just more or less a prop in a larp, good deal for a great price/quality ratio. Also, the long sword looks "manly" in the pics.
The 90 cm looks almost the same, but in reality completely different materials are used and the weapon has much better features. At 90 cm long, you can easily fit into the "one-handed sword" standards of all larp battles. The core is 8x10mm, making it stiffer than the previous version. Together with the length, this gives the sword much more rigidity. The extra length helps to make it more maneuverable. The foam used is soft (approx. Shore A 25) – about the same as latex. Unlike latex, however, it does not suffer from any of its ills – it is maintenance-free, usable in any weather and contains no allergens. This foam is softer, but at the same time tougher against tearing than our first generation guns that use A35 blades. A polyamide flare is routed throughout the foam to stiffen it and prevent the tip from breaking off or spreading a blade tip tear. To make the blade even more resistant to tearing, the surface is reinforced with a thin coating of special polyurethane.
The 80 cm is a shortened version of the 90 cm sword. It therefore has most of the same characteristics. The shorter length makes it lighter and even easier to handle. Ideal for medieval warriors.
The 80 and 90 cm variants are well usable in any larp battle, including kekel and lumberjacks, thanks to their features.
If you are hesitant and have no reason to choose another variant, the 90 cm sword is probably for you.