Ragnar – the viking ax
| | |
| --- | --- |
| Lenght | 65 cm |
| Weight | 300 g |
| Core | fibreglass |
| Materiál | flexibble PU foam |
| Certifikace | CE, REACH, EN71 1-3test |
| Použití | Cosplay, Film, Toy, Soft larp, Larp battle |
| Žánr / Období | Medieval |
| Tvrdst měkčení čepele | Shore A 25 |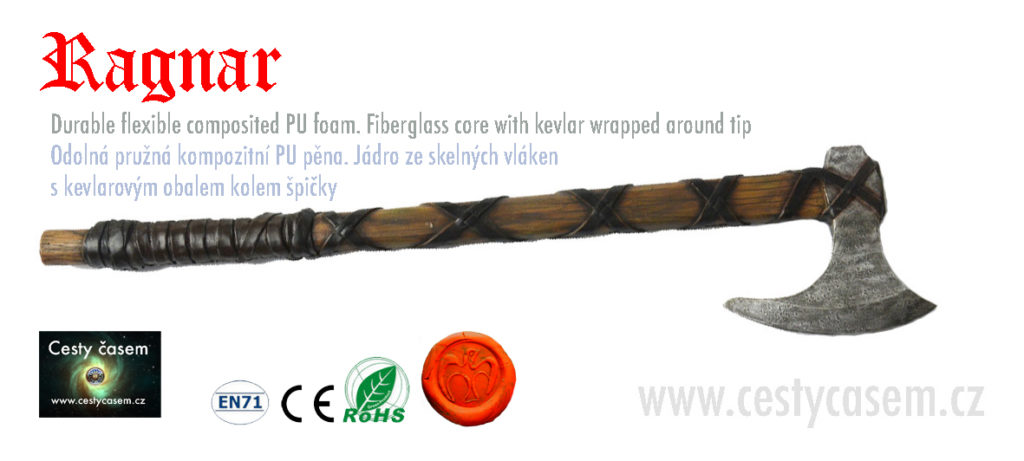 Ragnar – a viking ax
Foam softened Viking ax on larp.
Inspired by Ragnar Lothbrook's ax
65cm, 300g
Material
The axe is multilayered. The body is a durable flexible composite PU foam. To the touch softer but tough elastic and durable. When bent or squeezed, it returns. Fiberglass core with Kevlar coating around the tip. This makes the sword virtually impossible to break. It can withstand great deflection and really big blows, it can reliably attack and cover direct hits. The surface is made of stiffer silicone rubber. The handle is a little stiffer rubber. Even in a tough contact fight you will not hurt anyone. It is tested and certified for safety and contains no harmful substances.
The axe Ragnar you also can get in set Viking and Set Jarl
Viking is a softened larp sword for larp, ​​larp battles and cosplay. The style corresponds to the 9th to 11th centuries, with a tolerance of the 7th to 12th centuries. Quality softened blade suitable for fencing, combat, larp battles.
The Viking ax Ragnar is inspired by Ragnar Lothbrok from the Viking series. Quality blade suitable for fencing, combat, larp battles. Really believable photorealistic design. Alternatively, a slightly smaller ornate Viking ax may be part of the set.
The set Jarl then completes the third weapon – a personal dagger for the larp.
In addition to these three weapons, Set Jarl also contains a Viking shield.
The shield can be completely customized "tailor-made". You can choose one of the offered topics (we try to offer historically documented motifs of drawing on the shield) or write your own. You can also choose your own colors. You can have a shield completely unique to you. Or you can order a whole group of shields with the same image, which means you belong together.
Set Jarl is a great set of three larp Viking weapons (sword, ax, dagger) and a customizable Viking round shield for larp. All are suitable for larps of all kinds, larp battles or cosplay events. The set has a discounted price when buying separate weapons and of course you will save on postage.
Shipping costs are not dependent on number – shipment is still the same. It is therefore advantageous to buy more pieces at one order and pay only one shipment. If you look at other products in my store, you'll find a whole set for the Vikings: Sword, Ragnar Ax and Dagger. When you order it, you save on postage – it stays the same as if you only bought one piece. Even if you order several weapons for your entire group, the price for shipment will be onstant and you can save even more.